Are you in a book club? If so, you may be interested to know that tucked away in BookBrowse's book club section are 14 years' worth of interviews with a wide range of book groups. Each one has something to inspire, and are full of interesting and useful information – such as the books that the groups have most enjoyed discussing (and the ones they didn't) and plenty of ideas that you can borrow to freshen up your own group. Some provide a complete roadmap to starting a similar group or program, such as the interview with Adrienna Turner, founder of the C Facility Book Club at the Sacramento State Prison; or our latest interview with Marianne Paterniti, Book Groups Coordinator at the Darien Library in Connecticut which runs... [More]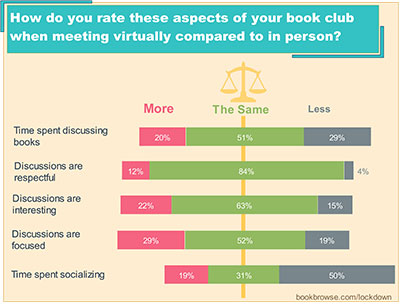 In the previous post about meeting virtually, we talked about how switching to a virtual format has changed some key factors for book clubs. Many respondents to our "Book Clubs in Lockdown" survey focused on the positive aspects of these changes, such as welcoming back members who had moved away and could now take part in meetings over Zoom. Others missed getting together in person and bonding over group meals and drinks.

But first and foremost, book clubs meet to discuss books. So, how are these book discussions actually taking shape when a group is meeting virtually?
[More]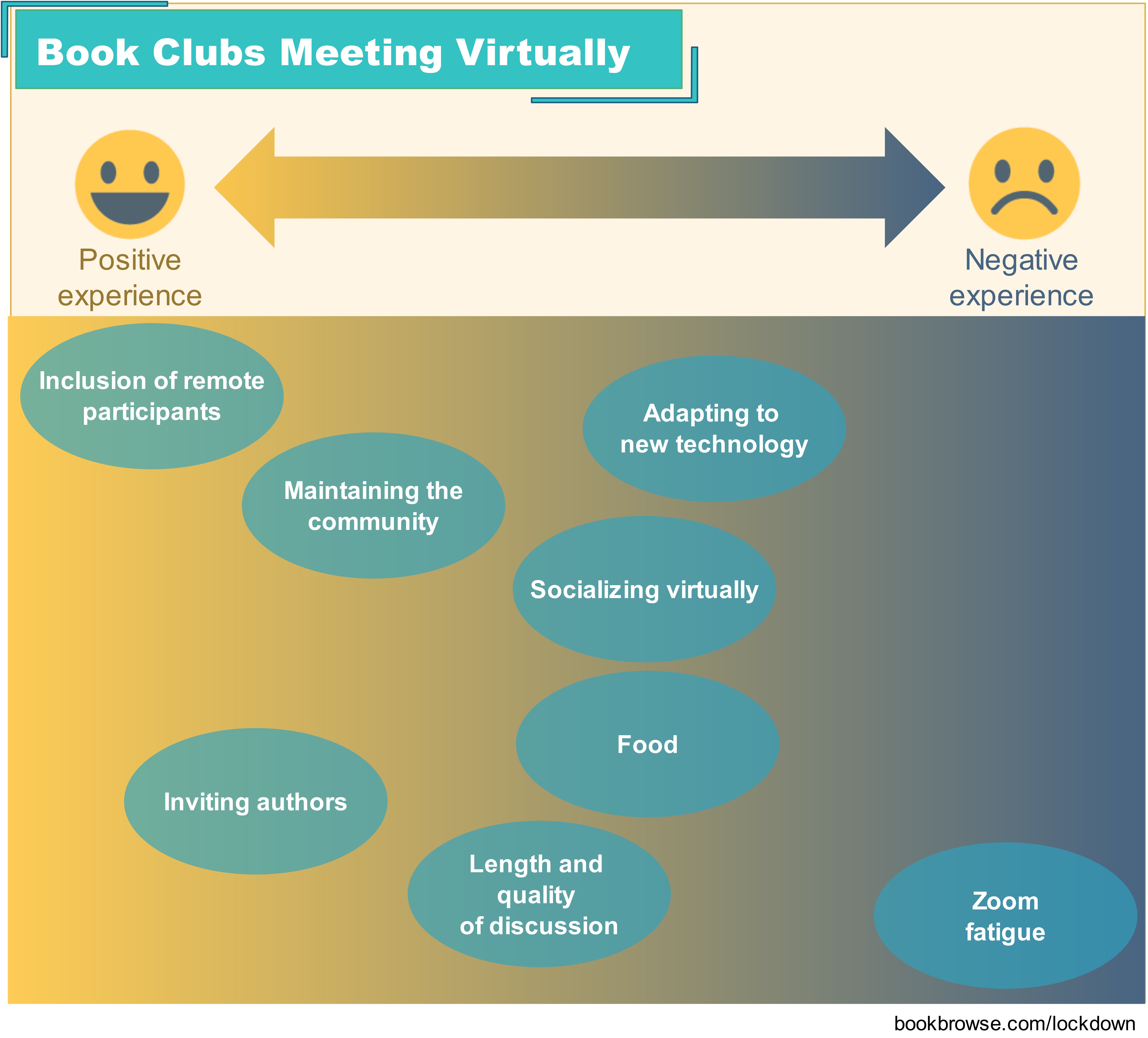 In recent articles, we've been talking about how the COVID-19 pandemic has brought big changes to the way book clubs run their discussions, especially in terms of where and how meetings have been taking place. Before the pandemic, all but 2% of respondents to our October 2020 survey, "Book Clubs in Lockdown," said their book group (or their primary group if they belonged to more than one) had met in person; whereas at the time of the survey, two-thirds of those in groups that were currently meeting were getting together virtually, and almost all of these were meeting on Zoom.

While virtual meetings have their share of drawbacks, many of the respondents pointed out benefits:
[More]
As a book lover, the chances are that you enjoy traveling to places you've never been through books; and prior to the pandemic, you probably enjoyed traveling in person, which is why I am excited to tell you about John Shors Literary Tours. You may well recognize John's name from his novels, many of which have been featured on BookBrowse and are bestsellers in the US and overseas (he's been translated into nearly thirty languages). Starting with Beneath a Marble Sky, which transports readers to 17th century Hindustan and the building of the Taj Mahal, to last year's My Midnight Sun (set in modern day Nepal), John brings his settings to vivid life by drawing upon many years of travel and research. Now, John has combined his love of wri... [More]
As we've been discussing in recent posts, the COVID-19 pandemic and subsequent lockdown have required book clubs to change course and do things differently. From the responses to our October 2020 survey, "Book Clubs in Lockdown," the most frequently reported change has been a switch from in-person meetings to virtual. In total, two-thirds of book clubs that were meeting at the time of the survey were doing so virtually, and of these all but a few percent were using Zoom. We'll be looking more closely at how those virtual meetings work and what book clubs have to say about them in a future article. Here we look at some of the good and not so good aspects of the book club experience during the pandemic, irrespective of whether groups are ... [More]
On Wednesday, Penguin Random House announced that the hardcover version of Gorman's poem, with a foreword by Oprah Winfrey, enjoyed the highest first-week sales of any poetry book ever published. She is also on the cover of the May edition of Vogue with a very good, in depth article/interview inside.
A personal pronoun is a form of speech that stands in for a person or group of people. She is having opinions online; they are fighting in the comments; and, of course, as in the Prince song made famous by Sinead O'Connor, "Nothing Compares 2 U."

Nonbinary pronouns, as well — often the singular "they" and "them" — have become widespread. A 2019 Pew Research study found already that one in five Americans knew someone who uses nonbinary pronouns.

And then there are neopronouns. A neopronoun can be a word a created to serve as pronoun without expressing gender, like "ze" and "zir." A neopronoun can also be a so-called "noun-self pronoun," in which a pre-existing word is drafted into use as a pronoun...
A coalition of wealthy business executives has put together an 11th-hour offer to buy the entire Tribune Publishing chain (including the Baltimore Sun and the Chicago Tribune) that a special committee of the Tribune's board said Monday "would reasonably be expected" to beat out the offer from the hedge-fund that has been looking to buy the newspapers.

The duo then plans to sell many of the individual papers to local owners. This move is the culmination of years of despair from journalists and civic-minded organizers who have watched their local paper shrink under corporate consolidation and broader economic forces, only to be threatened by what to them seems like a death blow.
A children's graphic novel by the creator of the popular "Captain Underpants" series was pulled from circulation last week by its publisher, which said that it "perpetuates passive racism."

Scholastic said last week that it had halted distribution of the book, "The Adventures of Ook and Gluk: Kung-Fu Cavemen from the Future," originally published in 2010. The decision was made with "the full support" of its author, Dav Pilkey, the company said, adding that it had removed the book from its website and had stopped fulfilling orders for it.
Learning technology company Houghton Mifflin Harcourt announced Monday that it has entered into a definitive agreement to divest HMH Books & Media, its consumer publishing business, to HarperCollins Publishers, a division of News Corp. (NWSA), for a cash purchase price of $349 million.

The divestiture enables Houghton Mifflin to focus singularly on K-12 education and accelerate growth momentum in digital sales, annual recurring revenue and free cash flow while paying down a significant portion of its debt.
An octogenarian Swiss billionaire who makes his home in Wyoming and has donated hundreds of millions to environmental causes is a surprise new player in the bidding for Tribune Publishing, the major newspaper chain that until recently seemed destined to end up in the hands of a New York hedge fund...

Hansjörg Wyss, the former chief executive of the medical device manufacturer Synthes, said in an interview on Friday that he had agreed to join with the Maryland hotelier Stewart W. Bainum Jr. in a bid for Tribune Publishing, an offer that could upend Alden Global Capital's plan to take full ownership of the company.

Mr. Wyss, who has given away some of his fortune to help preserve wildlife habitats in Wyoming, Montana and Maine, said he was motivated to join the Tribune bid by his belief in the need for a robust press. "I have an opportunity to do 500 times more than what I'm doing now," he said.
After the huge success of HBO's adaptations of his Game of Thrones books, George RR Martin has signed a deal to develop several television series for the network and its streaming arm, HBO Max.

Hollywood Reporter has revealed that the author, who won four Emmys for his work on the adaptations of his bestselling A Song of Ice and Fire series, has signed a contract "worth mid-eight figures" spanning five years.
Children's author Beverly Cleary died Thursday in Carmel, Calif. She was 104 years old. Cleary was the creator of some of the most authentic characters in children's literature — Henry Huggins, Ralph S. Mouse and the irascible Ramona Quimby.
Larry McMurtry, a prolific novelist and screenwriter who demythologized the American West with his unromantic depictions of life on the 19th-century frontier and in contemporary small-town Texas, died on Thursday. He was 84.

Over more than five decades, Mr. McMurtry wrote more than 30 novels and many books of essays, memoir and history. He also wrote more than 30 screenplays, including the one for Brokeback Mountain (written with his longtime collaborator Diana Ossana, based on a short story by Annie Proulx), for which he won an Academy Award in 2006.
The winners of the National Book Critics Circle awards have been announced:
Fiction: Hamnet by Maggie O'Farrell.
Nonfiction: Island on Fire: The Revolt That Ended Slavery in the British Empire by Tom Zoellner
Biography: Stranger in the Shogun's City: A Japanese Woman and Her World by Amy Stanley
Autobiography: Minor Feelings: An Asian American Reckoning by Cathy Park Hong
Poetry: Here Is The Sweet Hand by francine j. harris
Criticism: Marking Time: Art in the Age of Mass Incarceration by Nicole Fleetwood
The John Leonard First Book Prize: Luster a novel by Raven Leilani
The Nona Balakian Citation for Excellence in Reviewing: New Republic culture writer Jo Livingstone
The Ivan Sandrof Lifetime Achievement Award: The Feminist Press
The National Book Critics Circle is a nonprofit organization of more than 600 critics and book review editors.