Historical fiction can be an entertaining tool for learning about days past. It can also be much more. Many novels set in previous periods go beyond a simple rendering of life in a particular time and place in history. For instance, authors may take advantage of the freedom provided by writing outside of their own eras to play with the notion of time itself, or to examine deeper truths about humanity. Books that provide the fun opportunity to reflect on historical details while introducing larger thematic topics often make for great book club selections. Below are six such books that come highly recommended from our reviewers, with reading guides to spark ideas for discussing them with your book group. Several of these novels employ ... [More]
In anticipation of the publication of Sally Rooney's Beautiful World, Where Are You September 7, we invite you to take a tour of Dublin from a literary perspective with our "beyond the book" article: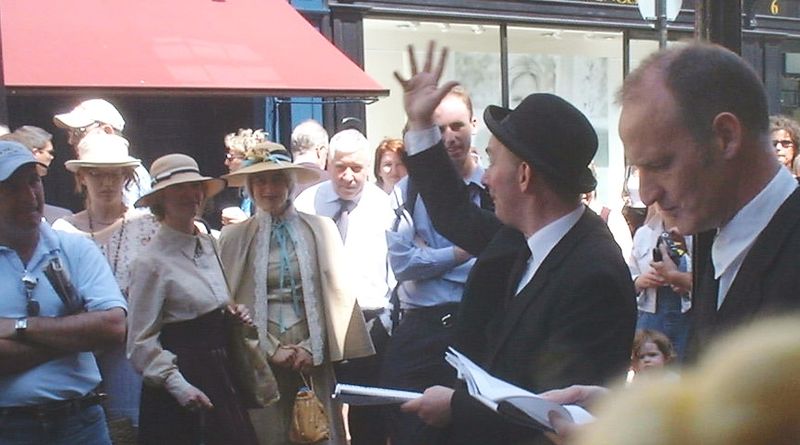 The backdrop of Sally Rooney's Beautiful World, Where Are You is the city of Dublin and its environs. Rooney herself lives in this UNESCO City of Literature, a metropolis that boasts a flourishing literary scene and an impressive inventory of influential authors, poets and playwrights. The streets of the vibrant capital are infused with the presence of its bookish greats, with landmarks never more than a few minutes away. [More]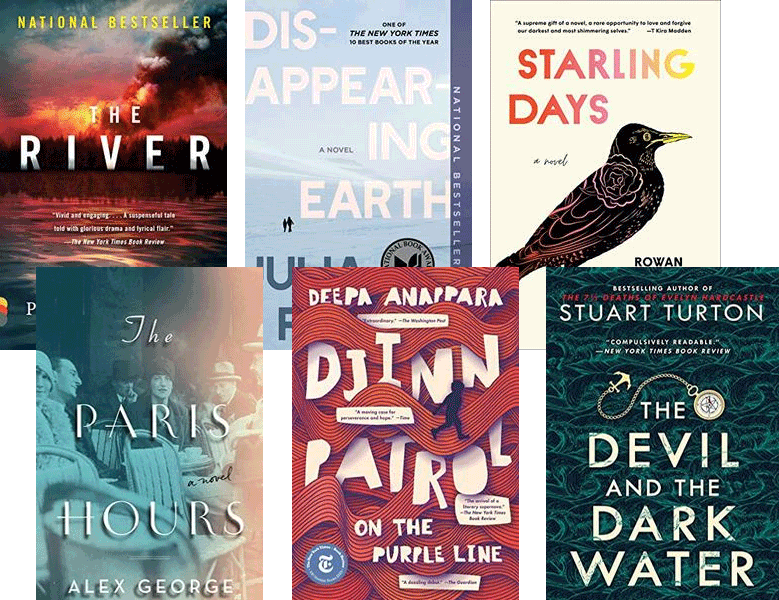 No matter where we are in the world, books offer us a way of traveling to locations different from our own. Below, we bring you a list of relatively recent novels available in paperback that can help your book club explore and contemplate locales all over the globe, from remote wilderness to bustling cities.
Half of the books feature journeys by water or by air, while the others dive deep into the intricate details of specific places. Two of them,
The Paris Hours
and
The Devil and the Dark Water
, will even allow your group to travel through time to bygone eras, in the City of Light and on the high seas respectively.
[More]
Jhumpa Lahiri wrote her novel Whereabouts in Italian, a language she learned in adulthood, and later translated it into English. Many authors have at some time made the decision to become exophonic (to write in a language other than one's native tongue), whether for personal, artistic, practical or political reasons.

The author who is possibly best known for doing this is Irish writer Samuel Beckett, who famously adopted French in order to write "sans style" (without style). While he eventually returned to English, some of his most famous works were originally composed in French, including the play En attendant Godot (Waiting for Godot) and the trilogy of novels beginning with Molloy. [More]
While happening upon a brilliant debut work of fiction is an exhilarating experience, it can be difficult to track down the best new books by emerging authors. It can also be challenging to decide which titles will be good choices for your book club without prior knowledge of the writers. So, here is a list of five spectacular debuts that have either recently been released in paperback or will be soon, and that we recommend for book club discussion. Aside from all being debuts, all five offer unique perspectives on history or current events, spanning from the American Old West to 20th-century northern Vietnam to a fictional near-future. We're pleased to bring you these fresh and exciting literary voices and have reading guides for each... [More]
Six titles made the shortlist for this year's Booker Prize for Fiction, one of the most prestigious prizes for English-language literature. This year's finalists were chosen from 158 novels published in the U.K. or Ireland between October 1, 2020, and September 30, 2021. The 2021 winner, who will receive £50,000, will be announced on November 3 in an award ceremony held in partnership with the BBC.

The 2021 shortlist is:
A Passage North by Anuk Arudpragasam (Hogarth)
The Promise by Damon Galgut (Europa)
No One is Talking About This by Patricia Lockwood (Riverhead)
The Fortune Men by Nadifa Mohamed (Knopf)
Bewilderment by Richard Powers (W. W. Norton)
Great Circle by Maggie Shipstead (Knopf)
Pearson Education this week filed suit against textbook service Chegg for copyright infringement, alleging that Chegg's popular subscription study service illegally appropriates Pearson's end-of-chapter textbook questions.

In a complaint filed September 13 in federal court in New Jersey, lawyers for Pearson said the scale of Chegg's infringement was "staggering."
Michael Newton, who wrote several hundred westerns, thrillers and men's adventure novels, died on September 6. He was 69.

Diagnosed with an untreatable hereditary kidney disease in 1988, Michael lived normally until declining health forced him into home dialysis in 2013. From there, he gained a new appreciation of two favorite singers: Mick Jagger ("What a drag it is getting old") and Jim Morrison ("No one here gets out alive").

As of 2021, Mike had published 357 books (a tribute to the .357 Magnum pistols, perhaps?), which included 258 novels and 99 nonfiction books. He also published 91 nonfiction articles, and 58 shorter pieces, including chapters in several bestselling true-crime anthologies. In 2017, Michael received the Lifetime Achievement Peacemaker Award from Western Fictioneers, honoring his publication of 62 western novels.

He wrote his own obituary: C'est la vie, and adios y'all.
Nancy Pearl, the former librarian and "energetic champion for readers across the country," is the 2021 recipient of the Literarian Award for Outstanding Service to the American Literary Community "for her expansive service to readers and the literary community." Presented by the National Book Foundation, the award honors "an individual for a lifetime of achievement in expanding the audience for books and reading." Pearl will receive the award from the Washington Post's Ron Charles at the 72nd National Book Awards ceremony on November 17.
In an extensive article, Carlos Lozada, nonfiction book critic of The Washington Post and the author of What Were We Thinking: A Brief Intellectual History of the Trump Era, looks back over 20 years of books relating to 9/11. In summation, he writes:

In The Forever War, Dexter Filkins describes a nation in which "something had broken fundamentally after so many years of war ... there had been some kind of primal dislocation between cause and effect, a numbness wholly understandable, necessary even, given the pain." He was writing of Afghanistan, but his words could double as an interpretation of the United States over the past two decades. Still reeling from an attack that dropped out of a blue sky, America is suffering from a sort of post-traumatic stress democracy. It remains in recovery, still a good country, even if a broken good country.
... The quickest possible glance reveals the racism in the Dewey Decimal System. We'll use the religion section as an example. The 200s encompass all religion, nominally, although the problems with this premise are obvious. ... Each Dewey heading encompasses ten major subjects, dividing each up by subtopics that add digits to the end of the number. Six of the ten subjects in the 200s are explicitly for Christianity-related subjects. Three of those remaining are either explicitly or implicitly Judeo-Christian. Finally, at the bottom of the heap, the 290s cover "other" religions. Islam, Baha'ai, and Babism all get to share 297. Germanic religions get 293. All "religions of Indic origin," in other words Hinduism, Jainism, and Buddhism, get to share 294. Hinduism gets all of 294.5 to itself. How generous! ...
Author Nikki Grimes responds to the news that a school district in Leander, Tex., has removed her memoir, Ordinary Hazards, from the curriculum due to what they deemed "inappropriate content."

"... Censors will find nothing salacious, graphic, or gratuitous in Ordinary Hazards. I specifically chose to write my memoir in poetry because the form allows for the delicate treatment of difficult content. As such, no one can reasonably charge the writing itself of being inappropriate. When it comes to sexual abuse, what is inappropriate—not to mention criminal—is the abuse itself. Writing about that abuse is both appropriate and necessary. Teens need to know that sexual assault is not a secret to keep.

For readers who come to this memoir having had any of the particular tough experiences I write about, this story lets them know they are not alone. Other readers encountering Ordinary Hazards come away with something equally valuable: the knowledge that, whatever challenges they may face in life, they can come out on the other side, and not only survive, but thrive—just as I did. Do we really want to restrict young people's access to a story that holds out that kind of hope?

Perhaps some have forgotten the purpose and power of Story. Story is more than repository of fact and fiction. Story is poultice, is salve designed to mitigate pain and stimulate the healing of wounds, especially those festering beneath the surface unseen. But this meticulously crafted treatment only works when applied.
A recent report in The Washington Post warns, "book publishers, dogged by paper shortages and shipping delays, are pushing fall releases into early next year."

Ingram, a major book distributor, issued a statement noting that "the book industry, like all physical goods industries, is experiencing Covid's negative logistic impacts due in large part to labor and supplies shortages and transportation issues." The company warned of "a perfect storm brewing."

... Barnes & Noble CEO James Daunt tells me that reprints of popular books are of special concern because they're driven entirely by customer demand and so are harder to predict. "This is where the paper shortages, and all the other supply and logistic disruptions, may cause delays and even an inability to reprint at all," Daunt says. "In truth, printer capacity in the U.S. for domestic printing has fallen short of peak needs for several years now. This year seems certain to be worse."
Caroline Todd, who wrote many bestselling series with her son Charles under the pen name Charles Todd, died on August 28.

Todd and her son published the first book in the Ian Rutledge series, A Test of Wills, in 1996. The book won the Barry Award from Deadly Pleasures mystery magazine and was nominated for the John Creasey Award in the U.K., the Edgar Award, and the Anthony Award. The Independent Mystery Booksellers Association named A Test of Wills one of the 100 favorite mysteries of the 20th Century, and it was a New York Times Notable Book of the Year.

The team published more than 30 titles, including two stand-alone novels, an anthology of short stories and more than 20 short stories.
Bleak House Books, "one of Hong Kong's last independent English-language bookstores," will close October 15. The store, which sells new and used books, was founded in 2017 by Albert Wan and Jenny Smith.

Wan writes:

The decision to close the bookshop follows another equally painful and sad decision, which is that my family and I will be leaving Hong Kong in the near future. As much as I would prefer not to have to disclose this in a public announcement, I believe I have a responsibility to the people who support the work that we do here at Bleak House Books to be honest and transparent about the reason for why I need to close the bookshop.

The backdrop to these developments is, of course, politics. To be sure, what my wife Jenny, my kids, and I do in our daily lives is not overtly political. Jenny is a university professor, I sell books, and the kids are primary school students. But as George Orwell once remarked, '[i]n our age there is no such thing as "keeping out of politics". All issues are political issues.' This observation is as true today as it was in 1940 when Orwell first made it. And given the state of politics in Hong Kong, Jenny and I can no longer see a life for ourselves and our children in this city, at least in the near future.